This is something many people can suffer from ranging from someone who appears to 'have it all together' to someone who suffers from a severe mental illness, anxiety can affect many of us, so what exactly is it?
Taken from the mind website they describe anxiety as a word we use to describe feelings of unease, worry and fear. It incorporates both the emotions and the physical sensations we might experience when we are worried or nervous about something.
The physical sensations we often experience from anxiety is related to the 'fight or flight' response (our normal biological reaction to feeling threatened).
What is the 'fight or flight' response?
Like all other animals, human beings have evolved ways to help us protect ourselves from dangerous, life-threatening situations. When you feel under threat your body releases hormones, such as adrenalin and cortisol, which help physically prepare you to either fight the danger or run away from it. These hormones can:
make you feel more alert, so you can act faster

make your heart beat faster to carry blood quickly to where it's needed most
Then when you feel the danger has passed, your body releases other hormones to help your muscles relax, which may cause you to shake.
This is commonly called the 'fight or flight' response – it's something that happens automatically in our bodies, and we have no control over it. In modern society we don't usually face situations where we need to physically fight or flee from danger, but our biological response to feeling threatened is still the same.
Though anxiety is a natural human experience it can become a problem for many, anxiety once experienced incredibly intensely can become paralysing where many cannot sleep, eat, or even leave the house causing it to become a problem in everyday life. This is when you could be diagnosed with an anxiety disorder or where anxiety is becoming a mental health problem.
What does anxiety feel like?
How to cope?
Different techniques work for different people, if you click on the link at the end of this sentence there are examples that mind provides for helping people cope with anxiety.
Personally writing it down, healthy eating and regular exercise help me with my anxiety and things such as binge eating on sugary foods and drinking alcohol always makes my anxiety much worse.
Supporting others with anxiety
I think it's important to state here that helping yourself before you help anyone with a mental health problem is important, not to be selfish but before you help others you need to make sure your well-being is ok as otherwise it can be an incredibly draining experience helping someone else through their tough times while ignoring your own.
Being educated on what they are suffering from – this helps provide you with the information to better know how to react or advise them on any problems they are facing.
Making sure you are patient and empathise with their feelings and situation – as if they are taking the time to open up to you they are probably already feeling vulnerable.
Encouraging them to get help – especially if their behaviour may be risking harm to themselves or others.
Being there for them to listen – this is important to listen without coming across as trying to 'fix' them.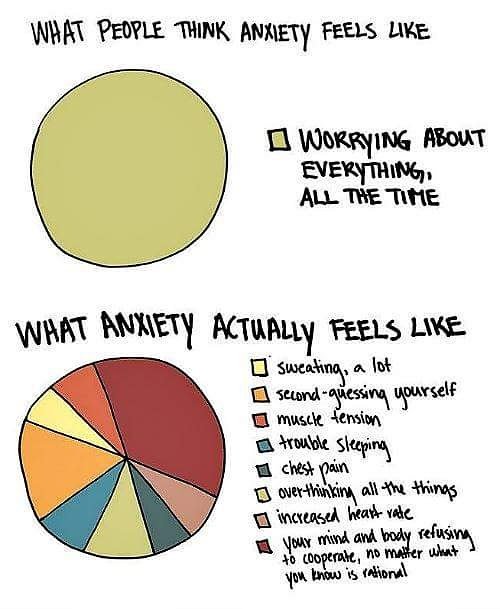 A poem I've written on anxiety…
It hits me in an instant, like shock waves through my body.
I simply hear your voice or read your words.
Then one big POUND and my heart starts to thud faster and harder,
leaving an echo resonating through my whole body.
My brain is a blur as my body starts to ache,
I cannot stop these accusing thoughts spinning around in my head.
I go to type, go to speak but my fingers start to shake.
The adrenaline just keeps pumping through my veins!
It feels like I'm stuck, frozen in a confusing state of fear.
I have lost all control.